While I've never had a full picture of my family tree, I'm always intrigued by the story of my ancestry. I know my mother's father and mother met in France while my grandfather was fighting in World War II. My mother's mother's mother was a spy in the French Resistance; it was a moving moment seeing her photo and story in a museum exhibit at the US Air Force Museum:
Adrienne Poirrier was born in 1902 in Mauprevoir, France. Her husband Raymond was killed during the German invasion of France in 1940, leaving her with a young daughter. Working as a bookkeeper in a suburb of Paris, she joined the French Resistance. Her job at a city hall enabled her to steal ration coupons and blank ID cards, which were distributed through the underground network to Jews in hiding. Questioned three times by the Gestapo, she escaped arrest the third time only because her daughter Paulette removed the ration stamps hidden in their home and rode the Paris metro all night with the contraband. Paulette later married an American soldier, Robert Hinders, who brought her and her mother to Dayton in 1947. Adrienne died in 1984 but her daughter contributed her story for this exhibit. (from: daytonholocaust.org/book.htm)
My mother's father's history is a little more fuzzy for me, and I regret never hearing more of it before he died. I do know his family is French-German, and his American roots trace back to Texas. I have a handmade 0.50 caliber revolving six-shooter dated 1858 that belonged to his ancestry that defended the family ranch in Texas.
This past Christmas I had a chance to learn a little more about my father's side of the family. My grandmother pulled me aside at the annual family Christmas party and gave me something that had been given to her. This set in motion a semi-drunken conversation where I scribbled notes and tried to keep track of my lineage.
What I did learn was that my great-great grandfather, Thomas Cochran, was from Halifax, Nova Scotia. He fathered Robert John Cochran, who in turn fathered my grandmother Jean-Anne. She married my grandfather Harold Thomas, and together they named my father John Robert. When I came along, history made Robert John a logical name, as it was shared by my father's ancestry and my mother's dad.
This was Thomas Cochran's watch: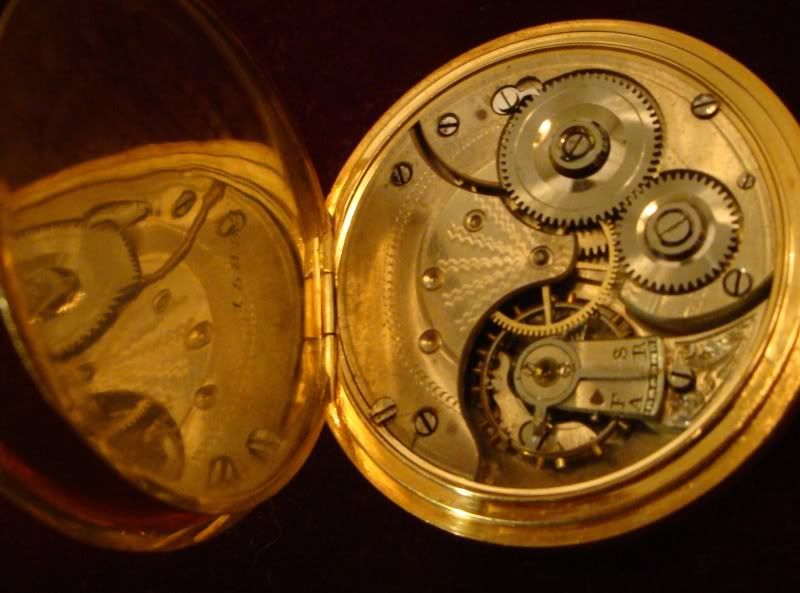 The inscription reads: "NWARC - 1901 - Regatta - 4 Oared - 1st." NWARC refers of course to the Northwest Arm Rowing Club in Halifax. A little internet search reveals that the 1901 regatta was indeed the club's first (
books.google.com/books?id=hwpE.....
) and that my great-great-grandfather belonged to the right crowd:
On the vacated property next to the NWARC a new club sprang up in 1904 - the Halifax Amateur Boating Club (HABC). It... differed from its neighbour in not permitting alcoholic beverages on the premises. The HABC was quickly nicknamed the Halifax Anti-Booze Club while its members referred to the NWARC as "the rummy crowd" because of their practice of accepting sponsorship for regatts and out-of-town trips from liquor distibuting companies.
So, I have a watch that not only holds some family history, but is a part of the history of rowing on the
Northwest Arm in Halifax
- a first place prize for the 4-oared race in the club's first regatta.
At the end of the day, very little of this history has any bearing on my day-to-day life. I guess it's nice to know the history behind my name, it's nice to know that my obsession with an endurance sport is not without family habit, and it's nice to know that they liked to party after they raced.