So here we are, 3+ weeks since my last post. Time seems to fly when you're looking at life one day at a time. That, and there's not a lot to report. Fall is here, the cooler weather has brought cross to our doorstep. Not that I've been partaking a whole lot. Raced Charm City, Wissahickon - both fun courses. I've also ridden a few anti-cross mountain bike rides - Brandywine, Fair Hill, etc.
Just trying to have fun.
In that vein, I headed to a local eatery this evening with Jan. We had a few bottles of Delirium Tremens and an entree each. The waitress brought some dessert menus, but we both decided we had drank our calories for the evening. "Are you ready for your check, then?" she asks. Of course.
She drops the black patent leather receipt portfolio. Jan opens it up and immediately starts laughing: "Is it me, or did she draw a cock and balls on the check??!" By now, dear Reader, you must surely understand that I'd be the first to find a phallic resemblance on anything. But I didn't see it.
I flip the portfolio around. Laughter erupts. "Now I see what she was going for!!" A couple strokes of the pen and the portrait is complete. For the record, she didn't seem to notice our artistic interpretations.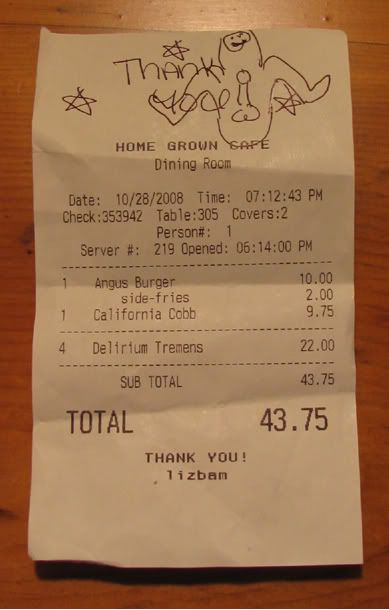 That's why I like dinner with Jan.