Basically it goes like this. Singlespeed Worlds were held over the first weekend in September in beautiful
Aviemore Scotland
. The schedule looked something like: Saturday evening was the decider for hosting rights for SSWC2008. Sunday was the race itself.
Could have been Saturday or Sunday night - it's one big blur.
Saturday night, I drank a *cough* few *cough* beers. I met a dude from Titus who was also there on his own. Nice enough guy, so we were hanging out, chatting with various racers at the local bars. This one guy named Kevin was really looking for friends, so he kept buying round after round. I liked Kevin. It was a late night, and the dancing at the club kept me up until 2 or 3 AM.

This little bastard kicked ass.
Sunday morning, roll out of bed hungover. My head is swimming and my stomach feels like it is filled with mayonnaise. I stumble to the dining room of the guesthouse for a Scottish breakfast. The eggs, bacon, sausage, toast, and half a tomato help settle the stomach. I hop on the bike, buy 4 pints of some German pils, and roll to the race meeting place.


Obligatory self portrait.
The hour long ride out to the race start was miserable. I kept burping up breakfast and fighting the urge to barf everywhere. Looking back I should have barfed. The race began after a regroup. LeMans start, long run. On the descent Adam Craig passes me for the first of three times that day and says "Someone hung my bike in a tree!" Wah Wah Adam. The big pro mountain biker has to work for his win.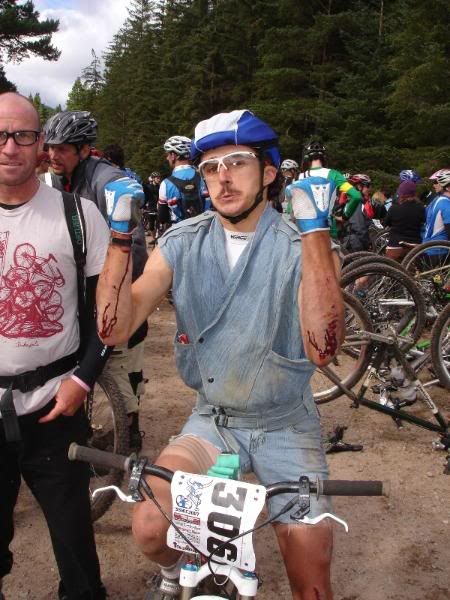 Adam crushed the field in a hot-pants Canadian Tuxedo.
The course was amazing. Rocks, roots, singletrack, loam, foam, drops, berms, a long ass climb on a dirt road, a steep ass climb on loose singletrack, and one of the finest descents I have ever done on a mountain bike. I did 3 of the 5 required laps. The first lap was all traffic jam. Mostly walking. The second lap I rode some fun sections that I wanted to clean after the first lap, but took in the scenery and took some pictures as well. The third lap, I only did it because I wanted to do that descent one more time.


I was a little drunk by the end. A beer between every lap catches up with a guy. But it made the hangover go away. After the race, I took a quick nap, and then went off to the BBQ. Great food, great people. I tried to drink a beer with dinner but my gut protested, so I stuck to whisky for the rest of the night. I went to bed a happy and shattered boy.
Mom on a singlespeed pulling a kid.
The only thing I would do differently are the two following things:
I would stay in Scotland a lot longer and get in more riding. The mountain biking was fucking amazing.
I would make sure to bring along some good friends. Inside jokes aren't funny when there's no inside. I missed my mates, and I was envious of every other group who had a tight crowd representing.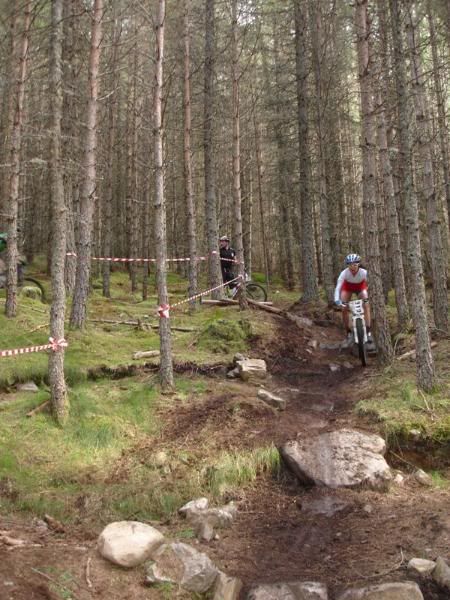 Go ride in Scotland.