It's funny how these things come together. I think it's a testament to the strength of our community, the tenacity of our riders, the solidarity of our "team". Everyone wants to be a part of a successful story. And in the case of the Frank Zappa Kappa service organization, everyone contributes and celebrates in unparalleled success.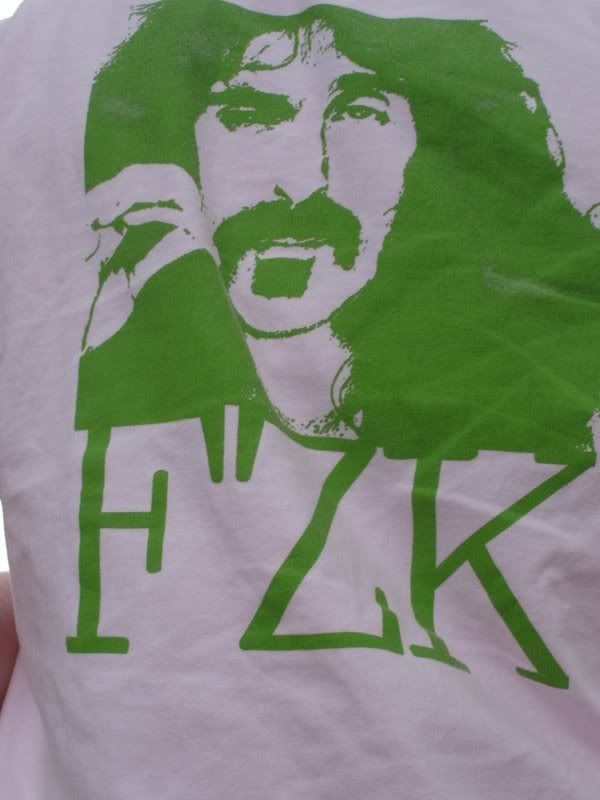 Sorry, not for sale.
Back in March or April, Fatmarc mentioned crypticly in a car ride that he had a little something planned for June. He didn't want to share details, but asked if I had a specific weekend open. I cautiously ventured a 'yes', but had that "I'm about to agree to a blind date with an ugly chick" feeling in my gut. I pressed him for more details and finally got a picture of the lass: the 12 Hours of Cranky Monkey. I was in.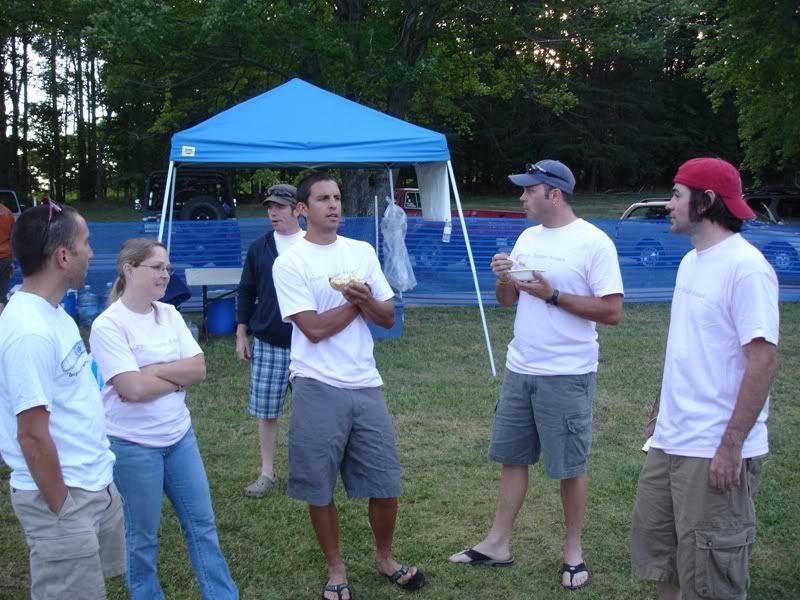 Zayne explains: "So much of my power is derived from this luxurious tan."
Scientifically speaking, the species on our team would include Fatius Marcus, Chunkius Monkius, and Rottenus Robium.


My Zappa-stache is pretty pathetic.
By the time 12 Hours of Lodi had come and gone, the word had hit the street. The soon-to-be-named Old School-esque fraternity - FZK - would be throwing down at Quantico. It didn't take long to stack every field with our riders, and the prospects for victory started to stack up with a little more integrity than a game of Jenga.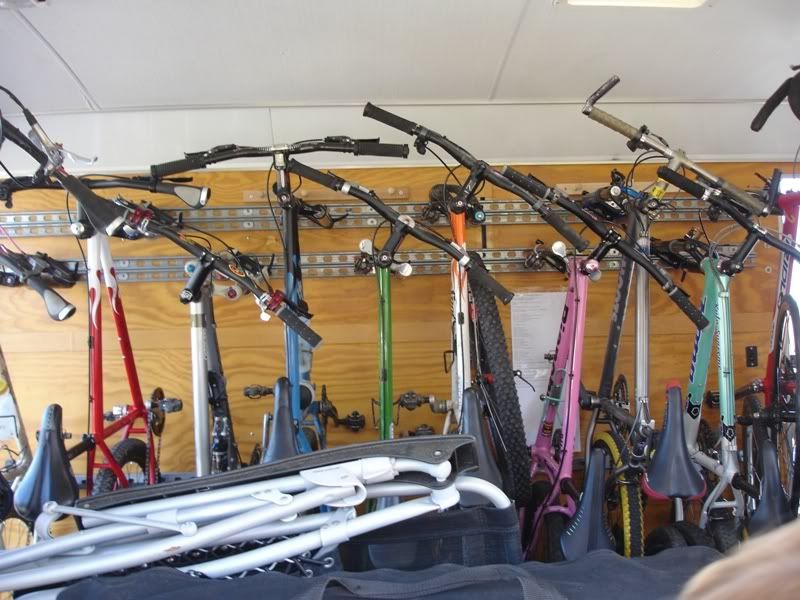 It's 106 miles to Chicago, we got a full tank of gas, half a pack of cigarettes, it's dark, and we're wearing sunglasses.
Saturday, we packed up and hit the road early with a hearty meal in the tank from the Post House - a solid decision owed to the reknown cognitive capacities of Zayne Braun. Arrived at the venue, set up base camp, and chamoised up for a preride lap. I was excited to see Papa Smurf racing, let alone combined with the strength and power of our two frustratingly small and slender riders: E-town and Mayhey. Unfortunately, the ground really wanted a close up of Papa Smurf's noggin, and after a stint in the ER, a concussion meant the rest of us were getting a top-notch soigneur for the day. I have to say that if Papa Smurf had raced, the day would have been a lot tougher, so many thanks to him for taking care of us after a disappoint DNS and a jarring concussion.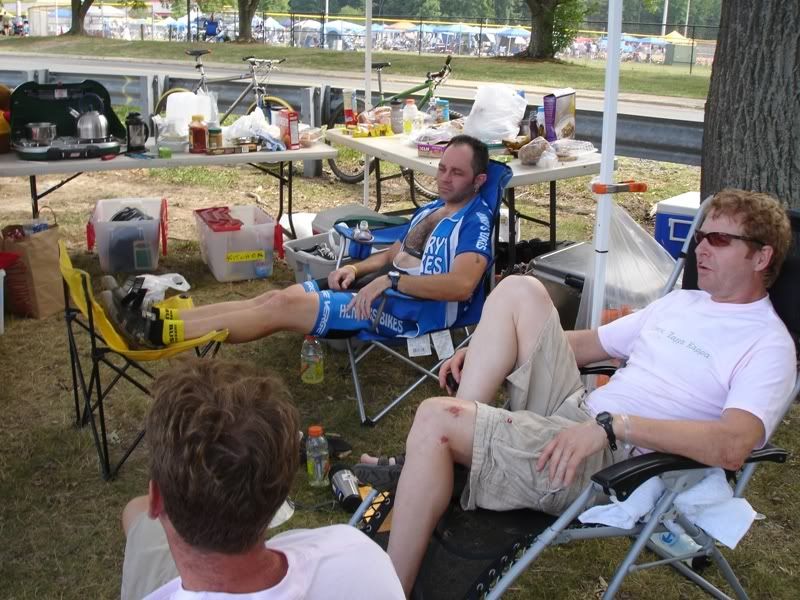 Papa Smurf takes a well deserved break.
Anyway, after dinner and the presentation of the official FZK uniforms, we hit the hay to rest up for the race.


We drink Perrier, and we piss excellence.
Race day arrives, and my gut is bound up tighter than the Gimp in Pulp Fiction. I had been less-than-regular the day before and the fear of race gut and boo-boo belly sets in. Regardless, I am doing the run so I kit up and head over to the start line. After throwing Blair Blair under the bus at the start line by asking the field "Are there any former Canadian National Road Champions in the crowd?" the gun goes off. The run sucks, as expected, but I hit the singletrack in the top 1/3 of the riders. My strategy was to hold back a little on the run. I wanted to conserve a little for the first two climbs, and I wanted to have some slower riders in front of me to pick off. I knew I would ride better if I could have carrots to chase.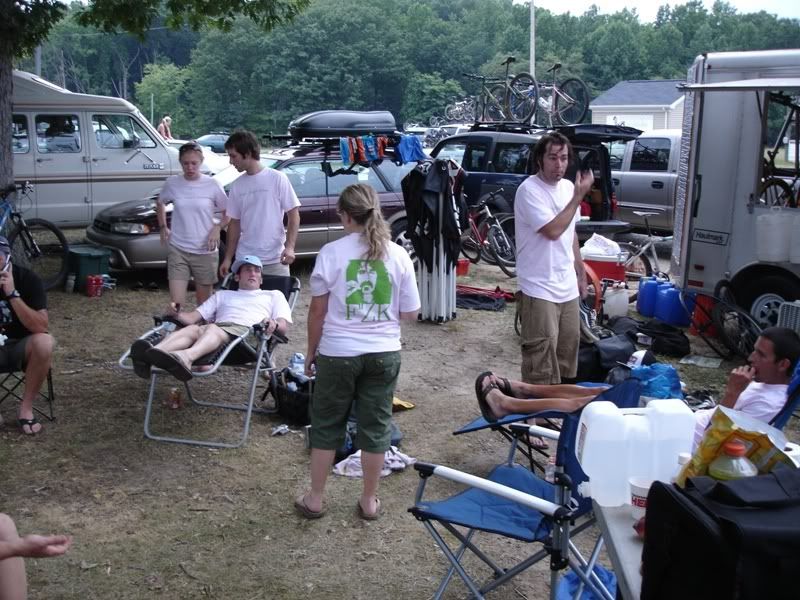 The pink and green invasion of FZK.
I really don't want to go through a play-by-play of the race, but here are some highlights:
Riding with Blair Blair for my 2nd and 3rd laps was really motivating. He was pushing me on the flat sections, and I was pushing him on the climbs, resulting in a solid and consistent pace.
Starting my second lap hearing fatmarc saying "Keep it up, we have 7 minutes on second place."
Battling all day, back and forth, with the eventual winners for the lead.
Seeing my final lap time, and realizing that all of my laps were within one minute of each other - my goal was consistency throughout the day.
Pooping three times in the world's only Port-O-Potty with a Glory Hole.
The second dumb-ass crash in a week on loose gravel that reopened the hole in my left arm.
A group hug with Fatmarc and Chunky Monkey after our team missed first by only 9 minutes, but almost lapped the rest of the field.
Seeing the rest of the brethren of FZK walking up to the podium, class after class, in pink and green, taking silver and gold.
FZK threw down hard. As usual, base camp was mistaken as a neutral support station. Our t-shirts were more sought-after than the event t-shirts. E-town and Mayhey, and Buddy and Bob took the 1-2 in the SS duo class. BreyLALA and Jamie took 1st in the Duo Coed. Jan and Blair took 2nd in the Open Duo. Levi, finishing like a zombie on a brain-bender won the Solo Open - Andrew the Automaton took a solid 5th in solo open, after 3 flats and 54 years of life on this planet (I hope to kick that much ass at 34). Zayne and Peaches won the Duo Open with a commanding lead. Fitzy rode another amazingly headstrong solo SS ride - no podium this time, but I am still amazed at how he functions not only for 12 hours of racing, but manages to keep his head on after the race.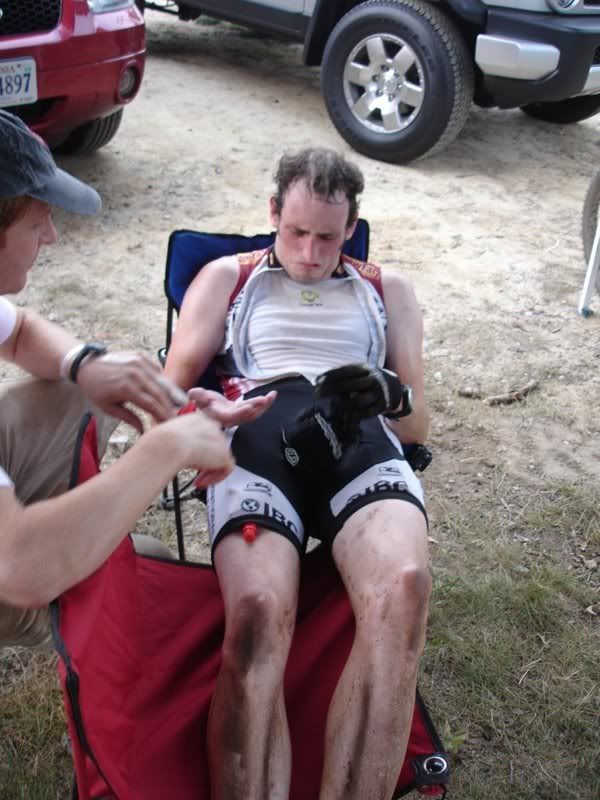 Levi begs for some human flesh.
Monkey and Fatmarc were amazing team mates. They rode their hardest. They fought tooth and nail for the duration of the race. They made me look good. They made me proud. They laughed at my jokes about my Princess Cinderella Poptarts. Thank you.


Don't let her scare you, Old Glory had a luxurious interior.
And Papa Smurf and Meghan (Smurfette) took first place in my book. Papa Smurf shook off a concussion and obvious disappointment at the lack of opportunity to perform on course to take care of everyone. Smurfette kept us all on time to the transitions, kept us fed, watered, and enlightened on the feminist movement. The last thing I want is to have them fulfilling a thankless role - so thank you, thank you, thank you. You two were the lube on our chains, the air in our tires, the food in our bellies. Thanks again.
Tom gave me the so-pro fishnet to protect my gravel wound. Zayne gave me the finger.
Finally, I've said it before and I'll say it again. I've never felt so proud, never been so willing to work for others, never been so challenged, never felt so part of a team. Everyone pulls more than their weight, we have a surplus of love and support and that is where our success lies. I have nothing but respect for my fraternal order of mid-Atlantic riders. Thank you and goodnight.