is a cool town. Reminds me a lot of the town of my alma mater: Troy, NY. A college town, former heavy industry. A little revival around the college community and the hipster/art/yuppie crowds. Some really good
mountain biking
is nestled right there as well.
Been a while since I tried out a little road rash.
Drove out to P-burgh Friday night to surprise my friend Robotsworth for his birthday. His girlfriend set it all up. He came walking down the street, past a bum drinking a bottle of SoCo on a shadowy stoop. The bum asks for directions, he does a triple take, realizes it's his friend he hasn't seen in 1.5 years. "Holy Shit!!", a hug, we both take a big swig from the bottle. That's only the beginning of course. Catching up and hanging out put a big dent in that bottle and my liver.

Saturday, Robotsworth and I met up with Mayhey for a little ride around Boyce Park. Reminded me a lot of Fair Hill, a little less twisty maybe, but fun none-the-less. My legs are really coming around, I felt much better on the bike than a week ago. Of course, Mayhey is strong as a mule in heat.

A little party Saturday night, and then Sunday it was more of the same. Good greasy breakfast with Robotsworth and Robotworth's girl, then hit the trails at Frick Park. That place is like doing shuttle runs - climb up the fire roads, bomb the moto-cross single track. Of course I was feeling a little too good and washed out while I was trying to drift the bike through some gravel at the bottom. Seems like I can't go anywhere these days without leaving some flesh on the ground. Thankfully my body protected FM's Meanie Greenie. He was kind enough to loan me his bike since my Spot Build has been temporarily derailed.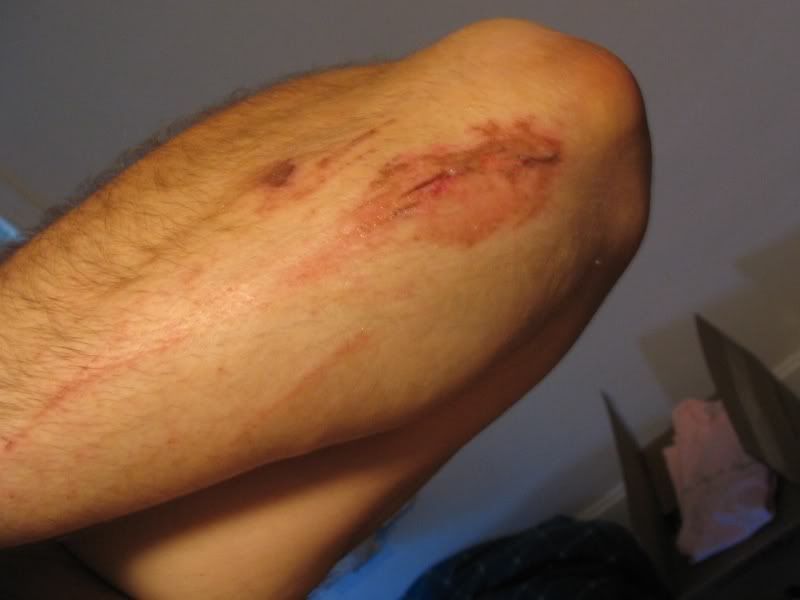 Hurts like 9 bitches in a bitch boat.
Anyway, a good weekend. Just the break in routine I needed. Now I am really looking forward to riding my own bike (maybe this week) and 12 Hours of Cranky Monkey this weekend. Fatmarc and Chunky Monkey are going to carry the team I'm lucky enough to be riding on.