Saturday, 10 AM,
Marc
,
Diane
, Fitzy,
Bob
, and I hit the road for Fredericksburg VA, home of the 9th annual
12 Hours of Lodi Farm
. This year's plan, throw down big with 2 trio teams, 2 duo teams, and 3 solo riders. Sadly, JF and Chris couldn't make it after John sprained his ankle.
2 PM. We arrive at the venue to find Tom (Papa Smurf) with Unkle Mike, Matt (run Forest), and iPaul(c) and the trailer in tow. They have already started unloading the trailer so we all set to work putting up our base camp. Yeah, imagine a refugee compound but with all the luxuries - electricity, coffee maker, microwave, stoves, grill, and so on - and you have some idea. I think we had a bigger footprint than the race promoters.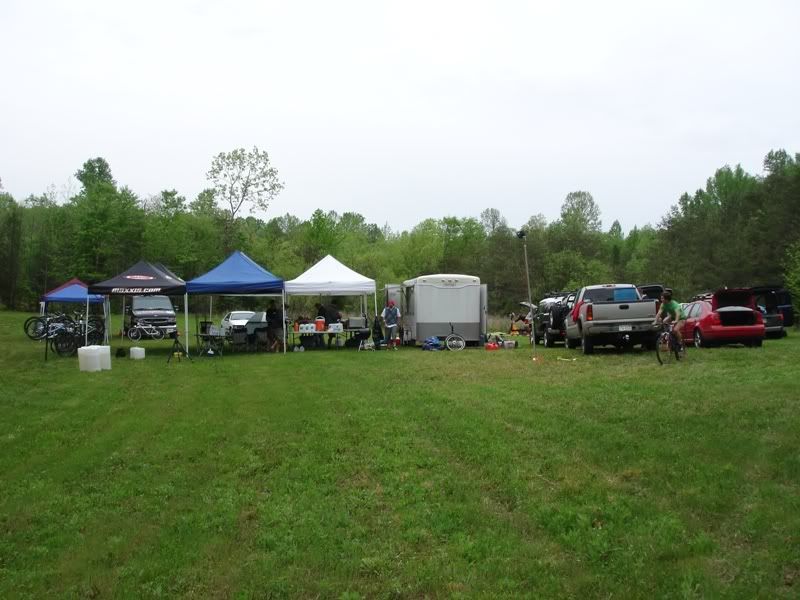 Refugee camp?
6 PM. We have been joined by E-town, Meghan (Smurfette), FFAmy and we throw together our team dinner - pasta, sauce, grilled chicken, caesar salad, and huge chocolate chip cookies with nutella spread on top. A few of us even enjoyed some Magic Hat HI.P.A. (damn that may be a top 3 beer for my IPA list).


Fatmarc actually carries a semi-pro license in eating. Bob, Fitzy, and Diane give him a run for the money.
6 PM to 11:30 PM. The usual trash talk, laughter, and BS that follows the DCCofD anywhere is filling the air. Teammates come and go from their cars or chairs trying to get some sleep, or trying to throw together final preparations for the midnight race start. The midnight start takes the gloves off of a tough 12 hour race, one that would already work you like Tyson on a heavy bag regardless of the start time. Throughout this entire time, the rain was coming and going, heavy at times. Not a single one of us even blinked an eye at the rain, knowing that if anything, it would improve our chances because fate favors the prepared.


For me, though, this is the best part of the whole experience. The team mates, the jokes, the ball-busting, the cameraderie, the preparation, the gluttony - it enriches an experience that is already unique and challenging. Hell we could have lived for a week or two off of what we brought for an overnight bike race. And there was enough trash talk in that tent to break a normal man's spirt 3 times over. And this is one of the reasons I will probably not ride an endurance race solo again. As much as I really appreciated the support I received between laps, I missed being able to rest up, talk strategy, and eat in good company. All things that you get to do in the team format. Anyway, back to the race report...


Sunday 12AM (Midnight). No LeMans start this year, just a short parade lap to get the field a little strung out before the race start. E-town, Matt (run forest), FFAmy, Blair, Fitzy, and myself lined up at the start for our respective teams. And the race begun. The rain held off the rest of the night, but the trail was still pretty wet. The roots were still soaked, keeping the riding plenty technical. My first lap was dismal. My plan for my solo attempt was slow and steady wins the race. Just go out there and start the next lap regardless of how shitty things were feeling.
Well after 30 minutes of racing, I still had not found my rhythm. I was not getting through the technical portions very cleanly, and I was banging up my body with small crashes here and there. I was really regretting signing up for this thing.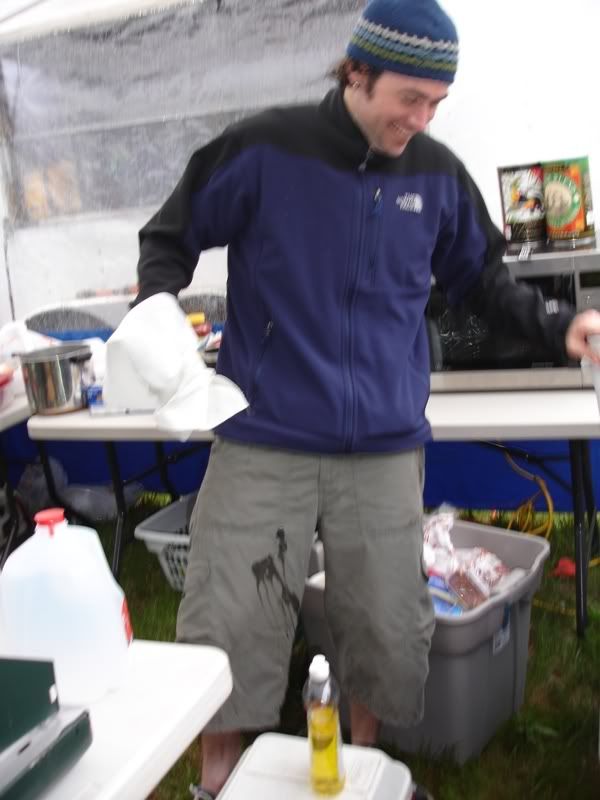 Marc demonstrates (with shorts on) why his dog is such an avid licker. It's peanut butter. On his crotch. You do the math.

1AM - 5AM. At this point I have no idea how the rest of the crew was doing, so I'll speak to my experience. I start to settle into a rhythm. My legs are coming around, and though my back is a little sore, it is nothing I can't push through. I start to have hope that I can make it. I am managing to keep my pit stops under 5 minutes and the support from Papa Smurf and Smurfette was beautiful. They calmed me down, got me to take a breath, fed me, hydrated me, massaged me, cleaned my bike, and gave my ass a slap as they pushed me back out into the course.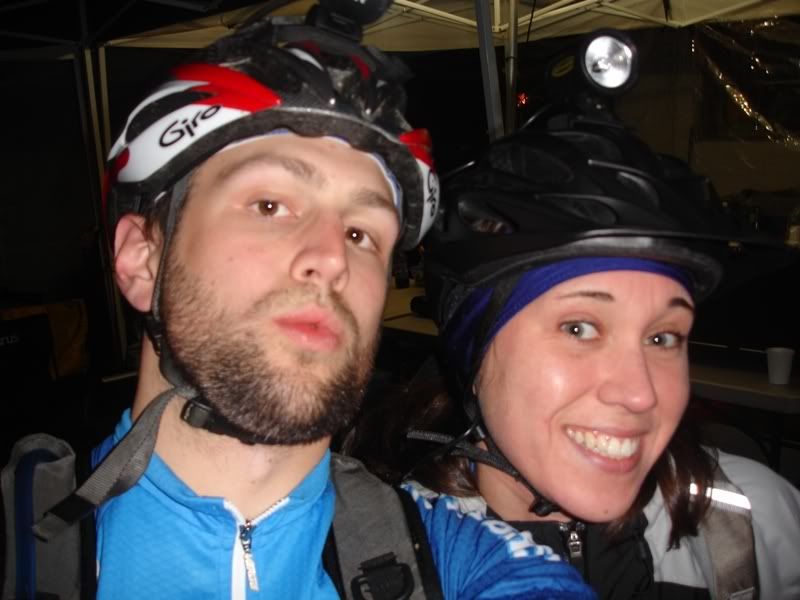 FFAmy and I rode a really nice lap together in the middle of the night.
Nothing like a chick's ass in front of you to keep you motivated.


5AM - 7AM. The last night lap is always the hardest. Especially because this is when you normally get out of bed. Your brain is fried, you've been racing for 5 hours already - more than a regular ride - and it's still dark out. The first daylight always brings motivation, but I came into camp between laps 6 and 7 feeling a little crappy. I figured it was time for a clothing change, the only one I had planned for the race. This was a long rest b/w laps. Everything just seemed to take longer working on no sleep and 6 hours of bike riding. But I got changed, ate some food, and tried to hit the port-o-potty to address some race gut to no avail. Stepping out of the john, Marc tells me that I just dropped from 2nd to 3rd b/c of my long break. Motivation is rekindled - the podium is in sight.



7AM - 11AM. Just keep the legs turning and 3rd place is mine. 1st and 2nd and me all had the same number of laps, and we were at least half a lap up on everyone else. Still hoping that maybe #2 will crack and I can take back the time I lost. A loose chain started popping off my bike during lap 7 but a calm, collected support crew had it fixed in no time after I ran the end of the lap. I started lap 9 around 10:15. Feeling OK, like I can do it, and knowing that if I get back within an hour, I can start lap 10 and clinch 3rd.



Well shit hit the fan. About 20 minutes into lap 9, the lights went out. Like someone snapped their fingers. Suddenly I couldn't think, couldn't pedal, couldn't pull the brake levers. Hell, it was near impossible to get off the bike and push it. I start worrying that I might not even be able to walk myself back to camp. Apparently iPaul(c) and Matt both passed me during this point and tried to pep me up - I have no memory of this. After my longest lap of the whole day 1:25 or so compared to my normal 1:00 to 1:05 laps, I get back to camp and collapse in a chair shivering.


Papa Smurf diagnoses me with an electrolyte crash and for the next 1/2 hour, he and Smurfette nurse me back to sanity with gatorade. I get up from my chair long enough to turn in my baton - my race is over. Final standing: 5th out of 12 starters. Not great, but not bad for a first (and probably last) solo 12 hour race. I'm glad I did it, but I think the team format is more my bag. It's easier to push through the pain when someone else is counting on you, plus you can throw down and have more fun during the laps when you know you have rest coming.


I was proud of my team mates, however, and proud to be a part of a ragingly successful DCCofD / Spot Brand collective. Marc, Matt, and Bob cinced the overall and single speed trio victories with 15 laps. E-town, Unkle Mike (aka Jan), and iPaul took first in the sport trio class. FFAmy and Diane won the women's duo (as the only team) but also were 5th over all in the open duo (no small task) with 10 laps. Blair took 3rd in the solo men's open - impressive given the number of times I saw him stopping to take a leak.


Fitzy finished right behind me in the singlespeed solo in 6th place with the same number of laps. I think I may have won the battle, but he won the war. His experience in solo attempts combined with his level head and specific training for solo endurance really paid off. Even with the same number of laps and complete lack of sleep, he was still functional after the race. I was useless. I fell asleep over and over - sitting on E-town's bumper, waiting for food at the post race restaurant. Well done Fitz.
I have to shout out a lot of love, respect, admiration, and thanks to my friends and team mates. They not only threw down and seized victory, but they were all there for me throughout my race. I call it a solo attempt, but I would not have been able to get as far as I did without the constant support of the Smurfs and the other racers. Fixing me and my bike so I could rest for even 5 minutes is a huge advantage - and a team effort. That is another reason I would like to return to endurance racing as part of a team. I want to be able to contribute on and off the bike.