Went to see the Doc today; figured it'd be good to get myself established with a general practitioner in the area. Aside from the annoyance I got from the to-be-expected ridiculous wait in the lobby, it was a pretty standard visit. I was amazed at how busy a doc's office is. So many of the people look so unhealthy.
And for the most part it looks like preventable stuff - most of it related to (you guessed it) obesity. It is depressing how out of control some people let their obesity become. The health toll is ridiculous - diabetes, heart disease, cancer - three top killers all of it linked to fat. And it's expensive for everyone. It is sad because I know it is tied in so many ways to income and class. The cheapest food is often the unhealthiest in the supermarket (see:
www.nytimes.com/2007/04/22/magazine/
22wwlnlede.t.html?ex=1178424000&en=
821e48a9626565b9&ei=5070
).
I think the general population have their priorities wrong. I would guess a lot of these overweight, lower class types live in debt and skimp on getting good food to afford cable TV and a big car. American ideals that only help perpetuate the situation. That still does not forgive the fact that there is not a better federal minimum wage, or better school lunches, etc.
Granted I am a fat bastard for a cyclist, but I am glad I have my health. And I try to take care of myself. Last night at the
DE Rock Gym
, JF - a marathon runner and fellow healthy human - sprained his ankle on a nasty fall from the bouldering wall. He still has his health, but it is easy to see how quickly one can be forced to the sidelines. He can't ride 12 hours of Lodi Farm now. But such is life.
Climbing has been progressing for me. I've finally wrapped up a bunch of problems I've been working on for a while. Pulled through a few V3s, a V4, and a V5. There is still one elusive V4 that is escaping me. But it will have to wait for a while.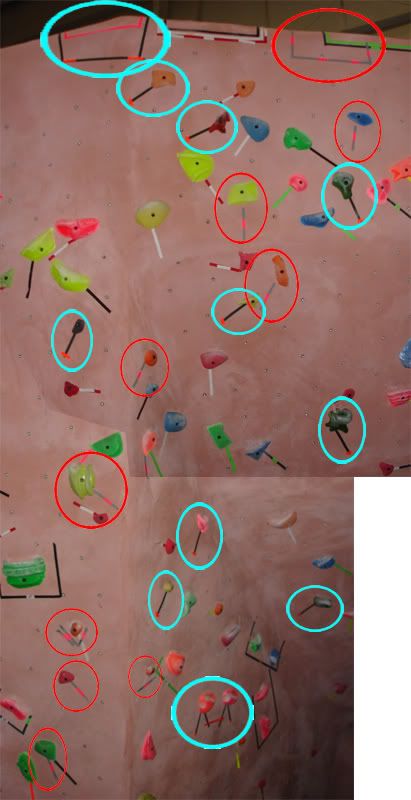 V5 (red circles) starts on the arete - crux is going to the yellow hold near the top.
V3 (blue circles) goes up the steep roof dihedral.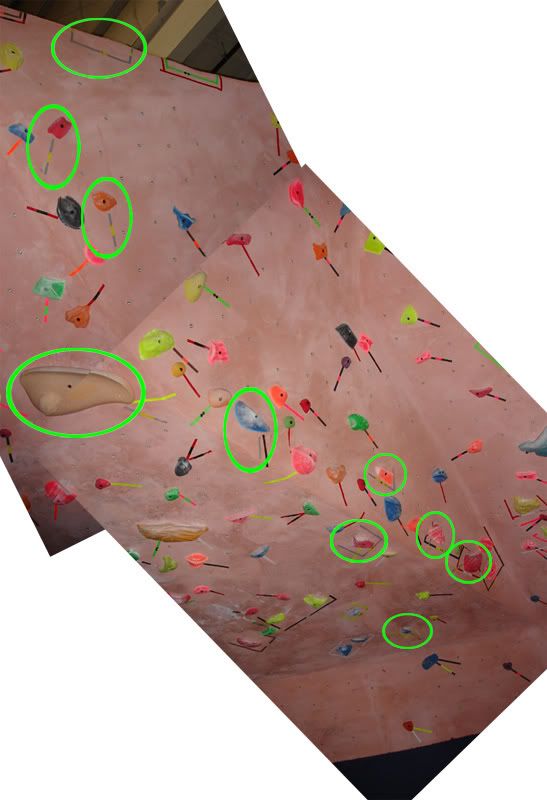 V4 that dangles you along the edge of the roof of the cave with crimpers and slopers before you have to pull off the big yellow bucket, with no feet, to the orange and red holds near the top.
The elusive crimp-fest V4 that I want to nail more than your mom.
The last move from the yellow hold near the top is all that's missing.

Now it is time to prepare for my first ever solo attempt at a 12 hour race.