I've taken the first step towards joining the big wheel world. I'm scoping out pricing on building up a singlespeed 29er. It may very well be that said bike is a Spot Brand. This
may or may not have anything to do with the fact that Fatmarc let me ride his Meanie Greanie for the weekend's ride.
I've never ridden a 29 inch wheeled mountain bike more than around a bike shop parking lot. With about 5 hours logged on Meanie Greenie this weekend, I am not looking forward to going back to my shit-pig Redline Monocog 26er for 12 hours of Lodi Farm this weekend. Oh well, it will make the future that much sweeter. Plus the Redline has been super good to me. For an initial investment of something like 400 bucks, that bike has been the best buy ever for abuse taken per dollar spent.
This weekend was the first weekend of really great riding weather this spring. Saturday found me rolling with Fatmarc and Zayne Braun for 1.5 hours on the road. After that little cruise we met up with Buddy, Chunky Monkey, FFAmy, and Katie C. for 2.5 hours of cruising around Fair Hill. FH has never been so fun as it was on FM's Spot. Today Matt, FM, Fitzy, and I drove down to Susquehana State Park for 2 hours of pain. I've never Ridden SSP, but it is a nice change of pace from around here - you are either climbing or descending - all the while clearing countless water bars, roots, and rocks. It was fun, but painful seeing as I'm not used to that quantity of sustained and steep and unrelenting climbing combined with technical descents that don't allow recovery.
A
lso had a chance this weekend to finish pimping out the bike I found for Rosie, so she can ha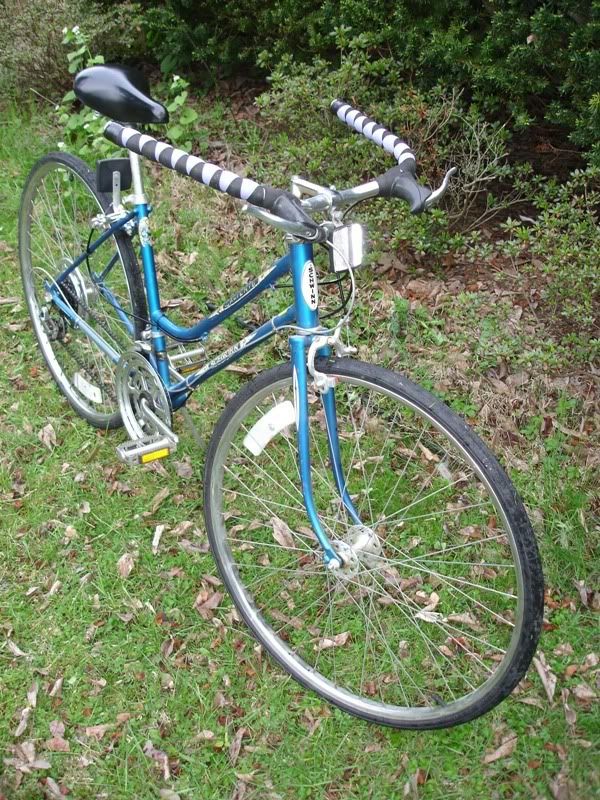 ve something on which to cruise around Beantown. It's an old Schwinn 10 speed women's frame. I put on some sweeping handlebars, swapped out some cables, and did my first ever woven handlebar wrap job. I think it came out pretty sweet.
Food highlights from this weekend: Picnic Burritos for dinner Friday and lunch on Saturday. Homegrown's Chili Hash for lunch today. My stomach is fat and happy.