Saturday night marked the first annual Shitty Sweater party. It was a raging success. 40-50 people came through decked out in their finest winter apparel, and helped us kick a keg of PBR. The countless kegstands helped here, especially the kegstand of Jan himself. It was truly impressive.
There were awards given out for some of the shittiest sweaters. The patented applause-o-meter was used in all judgements. The winners were as follows:
Unsweatered Award
(least shitty sweater) - Paul with the "this sweater has a story" zip up sweater.
Most Ill Fitting Award
- Mike with the Thanksgiving themed atrocity with acorns for buttons.
Most Tattered Award
- Julie with the torn neck "Breakfast Club" 80s special.
Best Ensemble Award
- Cooper with the golf pants and TWO sweaters. No one was so bold as to use 2 sweaters, besides this champion.
Feline Fury Award
(most shit dangling from sweater) - Dana with the tassled pastel number.
And the coveted
Shittiest Sweater Overall Award
went to JF with the
Saved by the Bell
opening theme sweater. This was a showdown against Lisa's Gramma Teddy Bear sweater, but the joy was only seen on the champion's face.
The night progressed, and sadly my memory becomes hazy at best. But I did find a leopard thong on my bedroom floor Sunday morning. Which led me to ask some defining questions. The truth of the matter is that I made a special appearance in said thong late in the night. JF tried to do the crowd a favor by getting rid of me, but the damage was done.
The next morning, I was parked in by a responsible adult who opted for a ride home the night before. In trying to call the driver of the vehicle,
I realized my phone was missing and realized it had been in the pocket of the pants lost when the thong came out. After a 45 minute search for the phone and pants left us frustrated and empty handed, my roommate and I locked eyes in the kitchen, then looked at the fridge, then looked back at each other.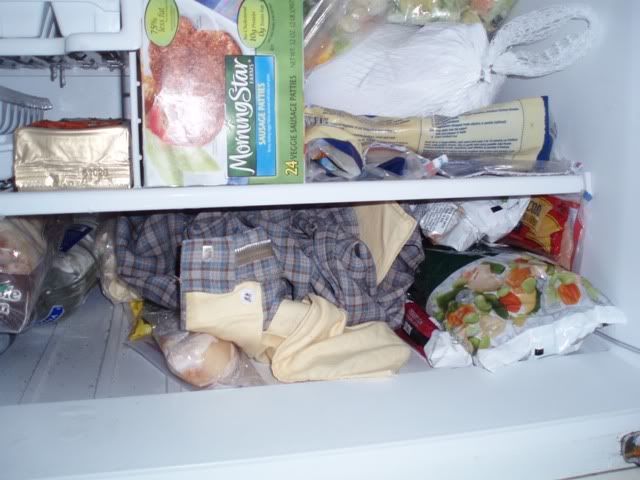 The freezer door was pulled open, and the mystery was solved. After some thawing, the phone lit right up. Only the greatest parties end with misplaced pants.
more pictures here:
picasaweb.google.com/forty15/ShittySweaterParty2007