This question has been beleaguering me since I stepped out of the pub on
Grampian Road
. After enjoying a few drams of whisky - because drinking beer in Scotland is like whacking off in a whorehouse - I went to pull my bike out of the bike pile on the sidewalk. Lo and Behold! A new sticker on my bike: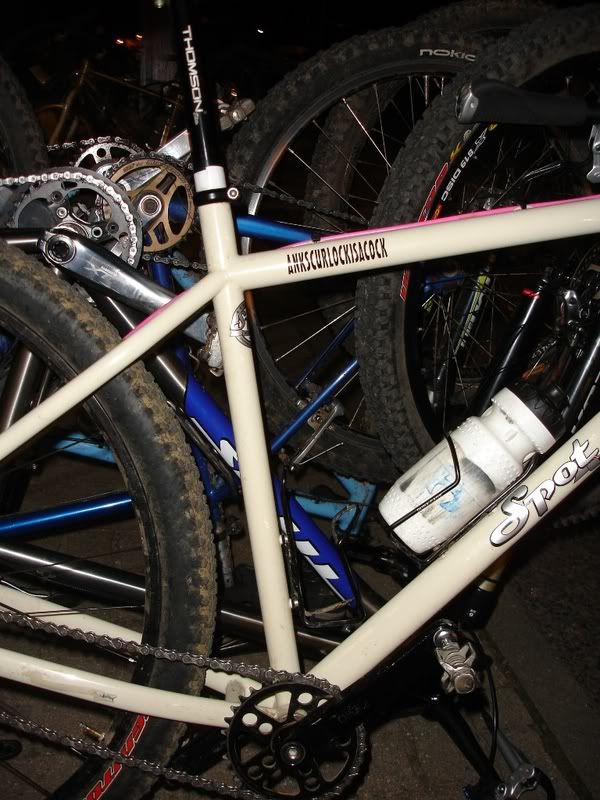 The text on the top tube reads: "ANKSCURLOCKISACOCK".


At the time I thought: "Hmmm, Ank must be a local name/nickname. Maybe Ank Scurlock is some local Rotten Robert equivalent and, appropriately so, people go calling him out on strangers' bikes. Or maybe Ank himself pulled a self-deprecating fast one and is just marketing himself."
I left the sticker on because, hey, it reminds me of a fun time in a foreign land... that... and I was too hung over to bother peeling it off.
So the other day, my good friend Robotsworth was in town for a visit. We decided to ride campus, and upon viewing my steed he asked: "what's with the sticker on the top tube?"
I relayed the story and asked his opinion: "Do I leave it or remove it?"
We decided that if 1 hour on the interweb could not uncover the true meaning of the sticker, it might be worth removing. Should the meaning prove funny or true, maybe it is worth keeping. So I emailed Marty, one of the promoters of the
SSWC 2007
.

Hi Marty,

3 months have passed and I'm still smiling from the race you and the TSPC put on. One lingering question is haunting me: Do you know the meaning behind "ANKSCURLOCKISACOCK"?

http://picasaweb.google.com/forty15/2007090104Scotland/photo#5106513361852338818

I'm trying to decide if I should leave it on my bike or not. But first, I want to know who is this Ank Scurlock and is he indeed a cock? Can you help me here?

robert thomas
henry's bikes
newark delaware
usa

A prompt response from Marty:
Evening,

Good to hear from you & glad to hear you had a braw time when you were over.

Given that it's been stuck to your Spot, I'm guessing that ank is most likely Frank Scurlock - one of the team that took Spot over from Jessica and Michael. Don't know him myself, but DrJon reckons he's a good lad - he met him when Frank came over to race one of the UK's 24 hour races a few years back when he was working for Maverick.

Best wishes for Hogmanay and hopefully see you over in Napa.

Cheers
Marty

Of course!!
How did I miss this?! FRANK SCURLOCK is the new owner of
Spot Brand Bikes
. He and his crony Chris are the guys that put me through the ringer when I bought my Spot. With that in mind, I think the sticker stays. I might even add the "FR" so there's no question.
Not to go into a long diatribe about my disappointment with Spot, but Frank and Chris seem to want to drive that company into the ground. I bought my frame from them, at a pretty penny, with the confidence that I was buying from a company that built a quality product and stood behind it. The former owners put their sweat and blood into the brand to bring it to that level.
The new guys sold me a frame that was obviously some kind of scratch 'n dent, and when it cost me even more money to build up the components because standard stuff didn't work, the new guys did not stand behind their product - in fact, they offered to help, then reneged on the offer. I've heard similar stories from other people.
So with that in mind, ANKSCURLOCK will forever be ACOCK.